Recent News
Our New Team Rector - Rev Guy Cole
Revd Guy Cole was licensed in the Priory on October 11th and we are very pleased to have him here with us in the Leominster Team. Fr. Guy is joining us from a long ministry in the Diocese of Oxford and we're looking forward to welcoming him over the coming weeks and supporting his ministry here in the coming years. There will be an introduction from him on here once he's had some time to unpack and settle in, but you can rest assured that we are in good hands and are blessed to have Fr Guy with us.

Shoebox Appeal
One hundred and twenty five shoeboxes were filled by members of the Priory family for the Teams4U shoebox appeal in late November. From across the UK the shoebox gifts are destined to travel to orphanages in Belarus, and to deprived communities in Bosnia, George, Romania and Moldova.
Brightly covered shoeboxes filled with stationery, toiletries, toys, warm hats and gloves and, of course, sweets spread joy to children living in difficult situations.
Upcoming Events at the Priory
November - January Choral Services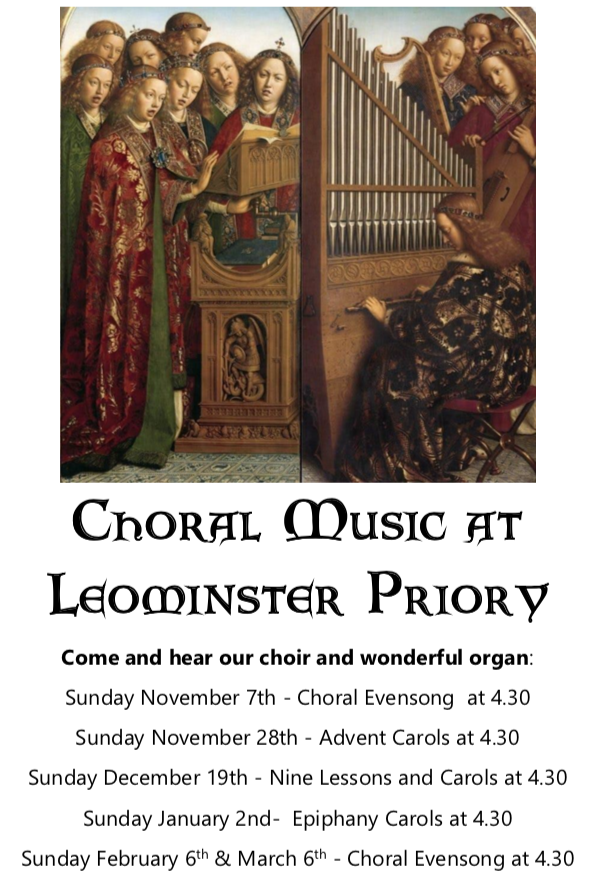 2022 - Leominster Historical Society
The Society has cancelled its programme for the rest of the year with the approval of our speakers. The programme of talks and meetings have been arranged for 2022 and are as follows:
Programme for 2022
March: date to be decided - a lunchtime buffet at Grange Court. Time to meet each other and participate in a Don Millar quiz.
All meetings will be held at Grange Court in the John Abel Room beginning at 7.30 pm and ending at 8.50 pm unless otherwise stated.
Wednesday 20th April Alf Jenkins on World War Two Time on the Clee Hills.
Wednesday 18th May David Phelps on Hidden Hereford.
Wednesday 15th June Following up David's Talk a walk led by Him meeting at the Black and White House Museum in High Town at 6.30 pm. Booking essential.
Wednesday 17th August to be held in the Priory at 7.30 pm. Hilary Norris will illustrate the king of instruments: the science, history and music of the pipe organ.
Wednesday 21st September David Whitehead's talk on Sketching in Herefordshire: James Wathen c.1790-1820.
Wednesday 19th October Peter Reavill & Tim Hoverd Talk about a local find which reached the Crown Court.
Wednesday 16th November AGM starting at 7 pm followed directly by Rhys Griffith, Senior Archivist at HARC: Quakers and their Archives.
Wednesday 14th December Duncan James looks at Local timber framed buildings.
Members can attend each talk free and visitors welcome at £4 a talk.
Membership Secretary and Treasurer: Don Millar 613695.