Latest Updates
The office is currently operating on a reduced timetable, but Sue, our Team Administrator can be contacted on 07821936301 or cofe.leominsterteam@outlook.com. The office is generally open 9:30am till 12:30pm Monday to Thursday.
Places of worship are included in places where we're advised to wear masks and we're making full use of the Priory's space to sit at a safe distance from each other.
This week's Pew Sheet
Currently unavailable.
Upcoming Events at the Priory
Work on the Tower
Those of you who have walked past the Priory in the last 2 months, will have noticed the tower shrouded in scaffolding. You may have wondered what is happening. Well, work started on the 11th November, and for the first 5 weeks scaffolding was raised to a height of 120 feet, level with the top of the 4 pinnacles. The main contractor, Treasure and Son of Ludlow, were then able to start on the project work itself. The flagpole, weather vane and cockerel were removed and the weather vane and cockerel sent away for repair and regilding. Work then started on raking out and repointing mortar joints to parapets and pinnacles with closely matching lime mortar. On the 13th January, the leadwork specialists started lifting some of the defective lead sheeting and examining the condition of the supporting timbers, prior to repair/replacement.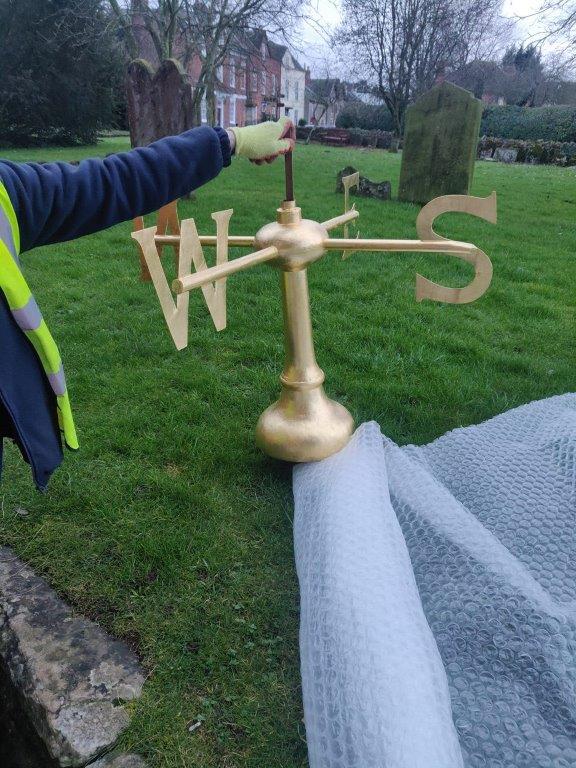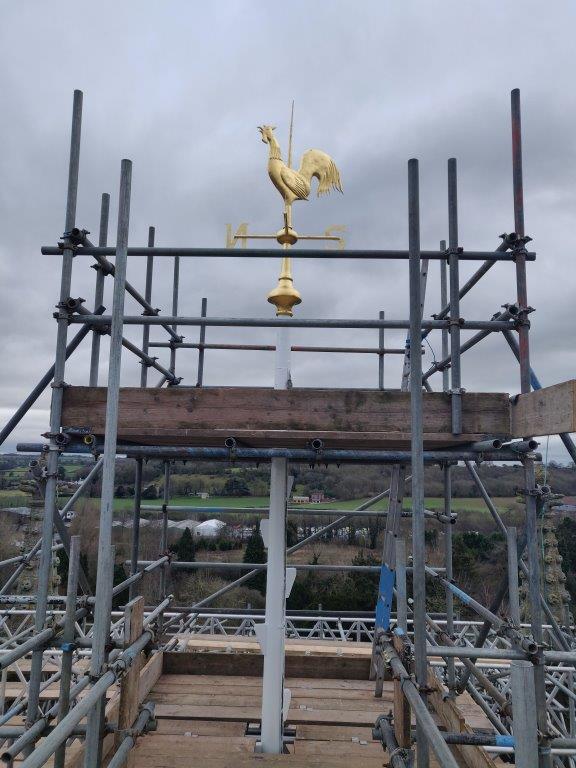 The beautifully regilded weather vane and cockerel were repositioned on the 14th January on the repainted flagpole. This work had to be done first as the scaffolding platform around it needed to be removed before re-roofing could proceed. Over the next 2 months the tower re-roofing with lead sheeting will continue, together with timber and stonework repairs and a few other necessary jobs to the west elevation of the tower.
The "Friends of Leominster Priory" have very generously provided £5000 towards the cost of the work, primarily the work to the flagpole, weathervane and cockerel, for which we are extremely grateful.
Hereford Historic Churches Trust have also contributed £3000 towards the project, and their ongoing support of our work is hugely appreciated.
Of course, the project could not have started without an exceptionally generous grant from the Cultural Recovery Fund of over £91000, details of which can be seen elsewhere on this website.